Gutter Cleaning and Repairs and More
Home repairs can become significantly higher if your eavestroughs and drainage system are not functioning properly. Timely repairs and maintenance do not just make your home look better but protect your assets too.
If water is not diverted away from your home, not only can it stain the exterior, but you may face water seeping under the soffit and fascia and into your home. This can result in cosmetic damage, harmful mould and mildew, or the deterioration of structural integrity. Standing water outside your home can cause soil erosion and attract insects. Inspect your gutter system regularly for signs of wear and tear including cracks, seam issues, sagging or water collecting, peeling paint, rotting trim, mould and mildew, or any other physical damage.
Learn More
Sometimes repairs can add up and it makes more sense to replace the system or some of its components. A free inspection by a professional is a great place to start to ensure little issues won't grow into bigger problems. You can trust Only Eavestroughs to provide fair recommendations with options for you to consider without wasting your money.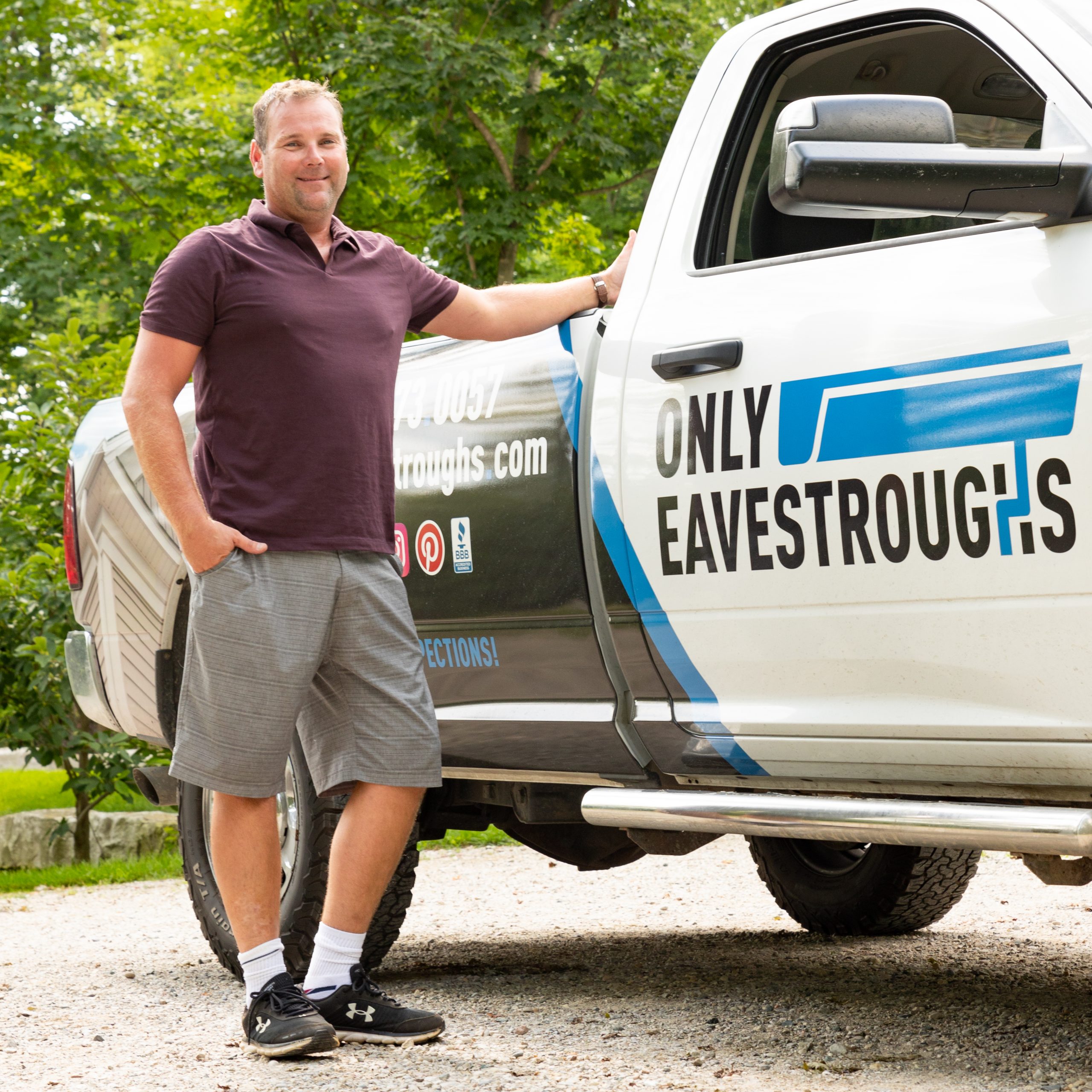 Regular gutter cleaning is absolutely necessary to ensure the proper functioning of your drainage system. It is recommended you remove dirt and debris and any clogs from your eavestroughs and downspouts twice a year to reduce the frequency of repairs and replacement.
Learn More
Many options are available to clean gutters yourself or you may wish to hire a professional gutter cleaning company.
You might be surprised by how affordable it is.
Read more about DIY vs. Professional Gutter Cleaning
The installation of leaf guards can reduce the time and effort required for gutter cleaning.
If you choose to add these components to existing gutters, you need to ensure a thorough cleaning is completed first. Beyond gutters and downspouts, Only Eavestroughs can wash other areas of your home including your roof, siding, windows, doors, decks, patios, walkways and driveways. House washing, like gutter cleaning, prevents damage, saves money, restores curb appeal and even improves health. We use a variety of methods to clean your home exterior depending on the area level of dirt to remove.
Learn More
Get a Free Quote for Gutter Cleaning, Repairs & Maintenance!
Preserve Your Home's Integrity! Ensure proper eavestrough cleaning & maintenance. Shield your property from water damage caused by clogs and leaks. Our expert team guarantees efficient cleaning and meticulous maintenance to keep your gutters in top shape. Don't wait for costly repairs—act now! Get a 100% FREE quote.
Safeguard your investment and maintain your home's beauty with our trusted eavestrough services.