Professional gutter cleaning may sound like a luxury for many. But we might surprise you. This article will compare DIY rain gutter cleaning with hiring a London eavestrough cleaning company.
We will look at common methods to clean your gutters and the difference between professional eavestrough experts and more generic property cleaning services. Then we will review the various factors that contribute to the cost of gutter cleaning service.
What's the best way to clean gutters?
There are many methods and a variety of tools homeowners can choose from when cleaning out their eavestroughs.
Leaf Blower
Move light debris building in the gutters toward the downspout but into the downspout!
By Hand
A good old-fashioned bucket and scoop with some elbow grease get the job done but can get a little stinky.
Wet/Dry Vacuum
Suction out heavier debris and dispose of it. You may need to loosen stubborn, stuck-on dirt first.
Garden Hose
While great for water testing or one last flush after one of the previous methods, this can be a huge hassle.
Pressure Washer
For a lot of built-up debris and clogged downspouts, try pressure washing. Caution – this gets messy.
Hire a Professional
Evaluate your abilities, equipment, and availability. You might end up saving time and money with a professional.
Start with an inspection
No matter which method you select, we highly recommend starting with assessing the condition of your entire gutter system. That includes the gutters and downspouts, gutter guards, and the soffit and fascia too. It is essential that everything is working properly.
Look for signs of water damage and other general damage to your home. Check for clogged gutters and what caused them. Ensure sections of the eavestrough and gutter are securely fastened to the fascia board. Confirm there are no leaks and the troughs slope correctly so water can drain.
GET FREE INSPECTION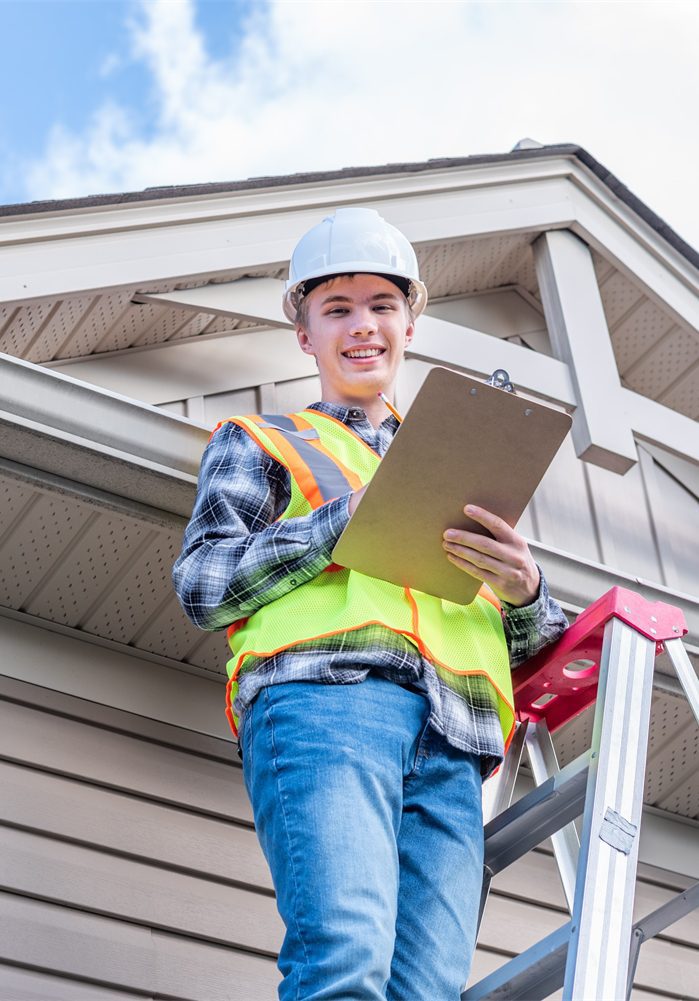 DIY vs. Professional Gutter Cleaning Company
It all comes down to time and money
Get gutters cleaned twice a year to prolong the life of your guttering system and reduce the frequency of repairs and replacement. Investing time now saves money in the future. Do you have the time to commit to proper preventative maintenance?
Maybe time is reason enough to schedule a professional cleaning.
Do-it-yourself gutter cleaning is very common easy enough. But you need to make sure you have the right tools to be successful and stay safe. Do you have the necessary equipment, including the various recommended nozzles and attachments?
How much will you spend on supplies? Are you really saving money?
Finally, safety is always a factor. Without the right ladders and equipment or enough time to pace yourself through the job properly, you are adding risk.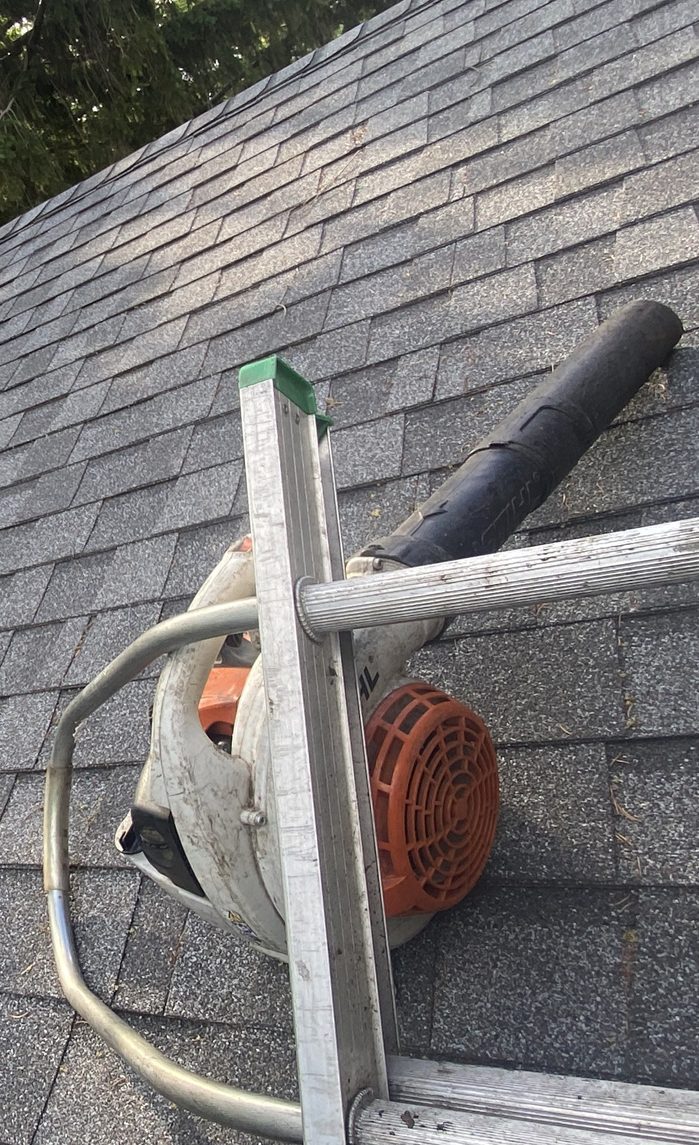 So how much does a professional gutter cleaning cost?
Determining the price of hiring a professional in London, Ontario, depends on a few different factors. You must consider the size of your home, the number of stories, the frequency you schedule eavestrough cleaning, and the condition and age of the gutters themselves.
Size of your home
Eavestroughs and downspouts collect water from the roof around your entire home. The bigger the house, the more sections there are to clean, which determines the time to complete the job. The cost of cleaning gutters is primarily labour, so the longer it takes, the more it costs.
Number of stories
Cleaning gutters on a two or three-story home will cost more. Even if the square footage, or size, of the home, is the same, multiple stories require different equipment and safety precautions.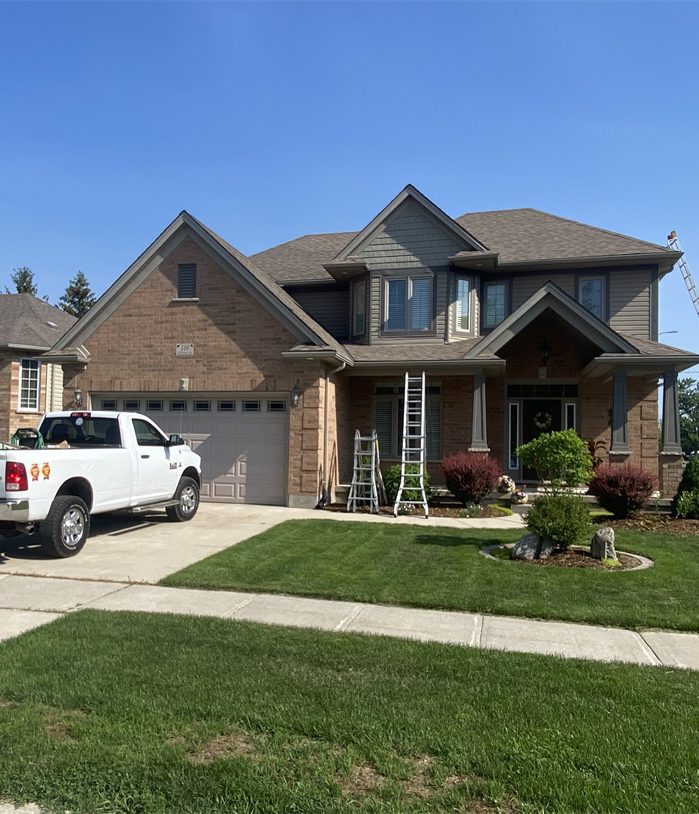 Frequency of cleaning
When was the last time you cleaned the gutters? Cleaning gutters regularly reduces the amount of debris to remove. If it's been a while, the job will be bigger and possibly more difficult. Don't wait any longer!
Condition and age of gutters
Gutter cleaning jobs can turn into gutter repair jobs. If during the free inspection, we find cracks, leaks, and other damage, we recommend or suggest that repairs are necessary along with a thorough cleaning to remove the accumulation of debris and unclogging of all downspouts to keep the system functioning properly.
When you properly maintain your eavestroughs, they will last many years. But after a while, if you have ignored them or they are just too old, repairs may not be worth it. Replacement might be a better option.
GET A FREE QUOTE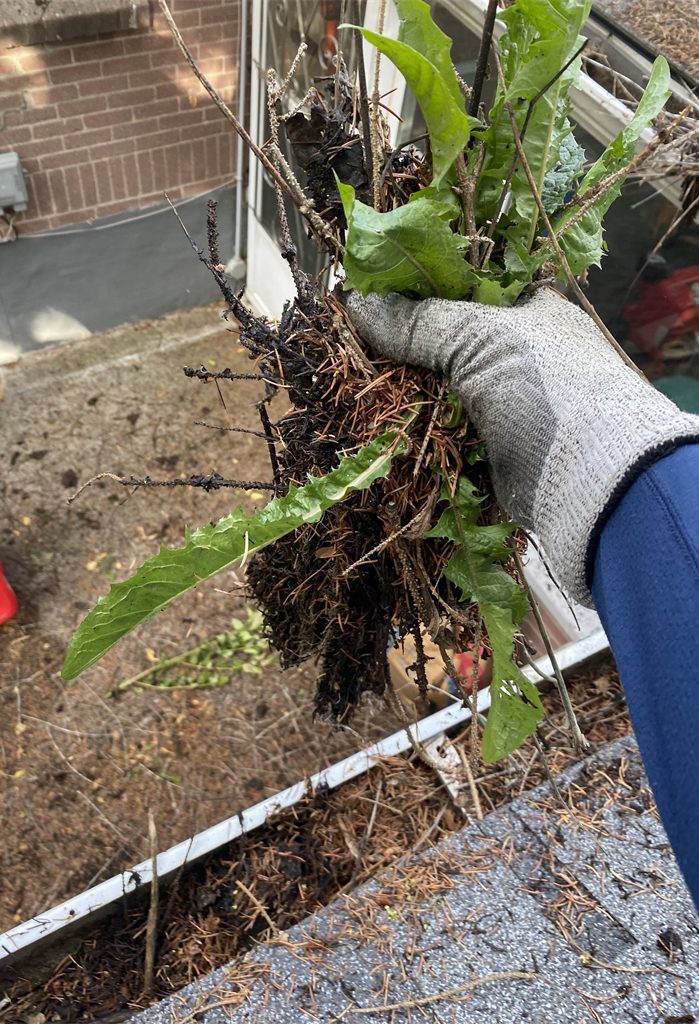 Professional Gutter Cleaner & Installer or Gutter & Window Cleaning Company
A properly maintained gutter system has many benefits. It prevents damage to your home, keeps water out of the basement, and prolongs the life of your investment. Wouldn't you agree it's a good idea to hire an eavestrough expert?
What if you need repairs?
Our services always begin with a free inspection, which comes with a free estimate. If you just need cleaning, great. We can do that safely, promptly, efficiently, and affordably. But if there are repairs needed, we have the skills and knowledge to complete those quickly without delaying the process.
What if you need a replacement?
Should the condition of your eavestroughs suggest a replacement, hiring a company who also installs the systems is more efficient. You won't waste time and money on cleaning something you end up replacing. No matter what you need, you can rely on our excellent customer service.
In Conclusion
There are many ways to clean your gutters: leaf blower, vacuum, pressure washer, by hand, or use a garden hose. You should always start with an inspection and make sure you have the right tools to do the job safely.
Hiring a professional gutter cleaning company can save you time and money in the long term and we've got you covered should you need repairs or replacement. And you can rely on great service.
To determine the cost, schedule a free inspection and estimate. We will take into consideration the size of your home, the number of stories, the frequency of cleaning, and the condition and age of your eavestrough drainage system.